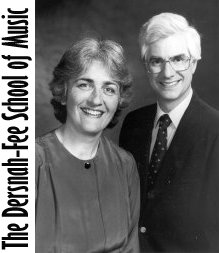 Music, for us, is a way of life and a full time commitment. Our goal is to foster love and understanding of music, and to make music a lifelong enjoyment for everyone.
In 1979, we opened the Dersnah-Fee School of Music in Midland, Michigan. For the next twenty years, we taught children and adults. A large number of our students were winners in state and national competitions, graduated from major music schools, and have pursued careers in the music profession. However, the opportunity to be an influence on students of all levels of advancement was our greatest joy.
In 1999, we moved our studio to San Diego, California, where our focus was on teaching adults of all levels. In May, 2016, we returned to Midland, where we continue to teach adults.
Music education must involve more than training in the playing of an instrument. Therefore, our program includes a solid background in music theory and exposure to many aspects of music history. A number of students have elected to undertake private instruction in early through college level music theory. Periodic performance classes are offered to all students to help gain confidence and experience in sharing music with others.
We each have 46 years of teaching experience, and many of our students are teachers who enjoy building their own repertoires, as well as discussing pedagogical issues relevant to their teaching.
In addition to private teaching, for the past 36 years we have been presenting master classes, lectures, and workshops in different parts of the country, and have been in demand as adjudicators. Both of us hold permanent Certification from the Music Teachers National Association.
We are committed to serving the individual by presenting music to each person in the way best suited to his/her needs, goals, and learning style. We are eager to talk with you about any aspects of our program.
You may contact us at sdfee243@gmail.com.