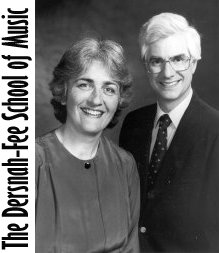 Music, for us, is a way of life and a full-time commitment. Having each taught since we were teenagers, we have a combined 100 years of teaching experience, and our students have enjoyed the benefit of both our points of view. We have always tried to serve each individual by presenting music in the way best suited to his/her needs, goals, and learning style, and by instilling confidence and providing encouragement.
In 1979, we opened the Dersnah-Fee School of Music in Midland, Michigan. For the next twenty years, we taught piano and violin to children and adults aged 3 to 90. Being an influence on students of all levels of advancement was our great joy. This included developing an eclectic approach to violin study for young children which emphasized both aural and reading skills, as well as teaching music readiness classes to small groups of pre-school children. Many of our students were winners in state and national competitions, 18 presented full length solo recitals, and 22 students were accepted as music majors and awarded scholarships based on their auditions. Forty-five piano teachers from mid-Michigan took lessons with us during these years, building their own repertoire, as well as discussing pedagogical issues relevant to their teaching.
In 1999, we moved our studio to San Diego, California, where our focus was on teaching adults of all levels. Several performed full-length public solo recitals, and many others performed solo home recitals. Fifty-seven Southern California piano teachers took lessons with us during those years.
In May, 2016, we returned to Midland to teach, while also continuing our work with a number of San Diego students who study piano and theory via Skype.

Music education must involve more than training in the playing of an instrument. Therefore, our program includes a solid background in music theory and exposure to many aspects of music history. Many students have elected to undertake specific instruction in music theory-- early through college levels. Periodic performance classes are offered to all students to help gain experience in sharing music with others.

Over the past 38 years we have presented several dozen master classes, lectures, and workshops in different parts of the country, and have been in demand as adjudicators. Both of us hold National Certification from the Music Teachers National Association. In 2016, we jointly received the Lifetime Achievement Award from the California Association of Professional Music Teachers, District I; in 1989, the Teacher of the Year Award from the Michigan Music Teachers Association; and in 1995, the Musician of the Year Award from the Midland Music Society.